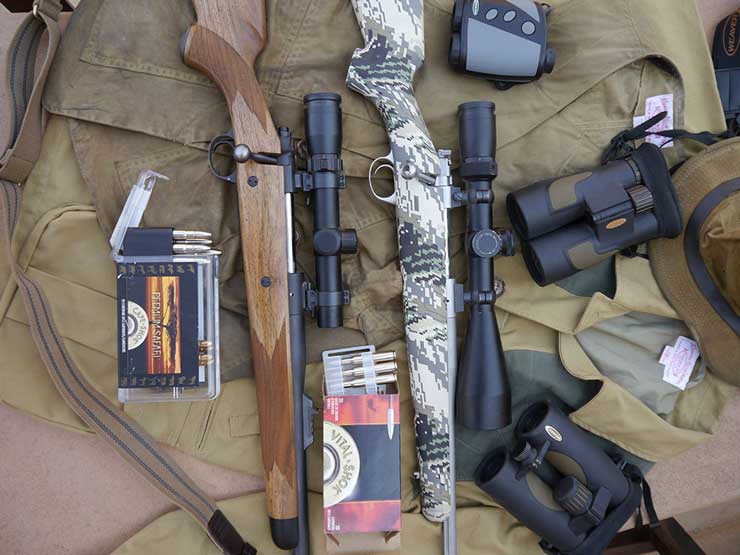 Optics
Binoculars are mandatory, likewise good sunglasses. Most PHs, but not all, have rangefinders, so a compact rangefinder is handy. Spotting scopes are not in widespread use in Africa but in more open areas can be invaluable. Ask your PH if you should bring one.
Firearms Accessories
Cleaning kit. Africa is hard on firearms. Dust is the major issue, but once in a while, insects nest in gun barrels (overnight). Bring minimal cleaning gear: oil, solvent, patches, and a jointed cleaning rod.
Rifle sling, scope caps, soft gun case, belt ammunition pouch, hearing protection. Especially if the decision is made to bring just one rifle, consider bringing a spare riflescope set in rings, along with necessary tools to switch in case a scope fails or is damaged in a fall.
Ammunition. Required amounts vary depending on length of safari and size of bag, but running low isn't fun, and running out is a problem. Think about two to three cartridges for each animal you plan to hunt along with spares for zeroing and checking zero periodically. For one rifle, 60 rounds are usually more than adequate. For two rifles, 40 rounds each are usually plenty. Either number will fall well within the maximum 5-kilogram or 11-pound baggage limit for ammunition.