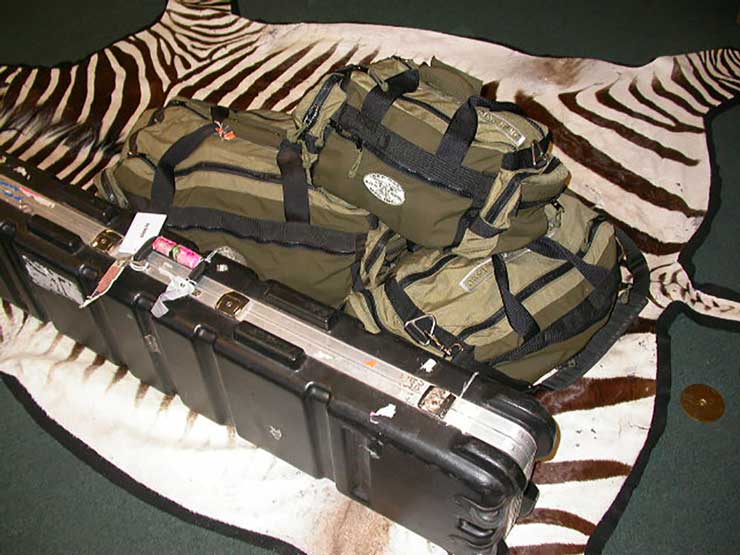 Firearms and Ammunition
Firearms must be packed separately in sturdy locked cases. Make sure your hinges are secure and the hasps allow the case to be securely locked. Always declare firearms and ammunition when you approach any ticket counter.
In the United States, up to 5 kilograms or 11 pounds of ammunition in original factory containers can be in checked baggage, separate from firearms. In Europe and South Africa, the same weight limit applies, but ammunition must be checked separately in its own locked case (wood, metal, or plastic). The simplest approach is to get a small, sturdy ammunition case and pack it in your duffel bag with locks inside but not locked when you leave the United States. In this fashion, you are ready to comply if required during a plane change or stopover.
Carry-On Bag
While baggage handling is generally reliable, delays and lost bags do occur anywhere in the world. Pack your carry-on bag as if it were the only bag you will receive! You can usually borrow a rifle and ammo and purchase basic clothing articles, so mandatory in the carry-on are binoculars, camera, extra prescription glasses, all prescription medications for the full period of your hunt, one change of clothing, and anything else you simply cannot live without for 10 days or 2 weeks.
Checked Bags
Luggage must be rugged and waterproof, but soft duffel bags are better than hard-sided luggage because they are easier to fit into vehicles and smaller final transport to camp.